Launch the Holidays Historical Costume Party on Goodreads!
If you'd like to have some fun next week, drop in and join the Love Inspired Group on Goodreads. We're hosting a Launch the Holidays Costume Party. Dress like a Regency lady or a pioneer woman and be ready to describe your party wear. And bring a party treat (to go with Regency or Pioneer costume) to share (recipe optional). Let your imagination take flight!–Lyn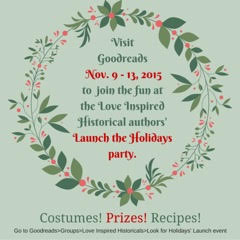 To join the fun, click here.