A New Book In Northern Intrigue series!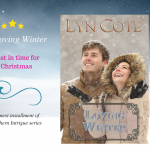 BLURB:
Happily single, Winter Woodard who inherited her grandfather's nursery is looking forward to a busy, fun fall and holiday season.
And it all begins with her cousin's wedding where Winter meets the man the ladies around town have been buzzing about. Single by choice, Clay Dixon, the very successful football coach at the local high school, has rebuffed all offers of "home-cooked meals," keeping the female population at bay. That's fine with Winter. She's her own woman, thank you very much.
Then bad things begin to happen. And unexpectedly Clay Dixon stands by her through a holiday season fraught with unnerving and destructive setbacks.
Is someone out to ruin Woodard Greenery's, all she has left of her beloved grandfather and mother?
Welcome to Steadfast, a small town whose people and mysteries you may never forget~Lyn