Author Christa Allan And a Daughter's Journey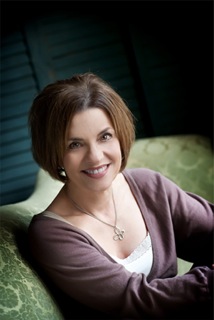 My guest today is Author Christa Allan. She is offering two copies in her GIVEAWAY so be sure to leave a comment to enter the drawing for one of the two. Here's Christa:
"Andrae and my daughter Erin were first married in January of 2000 by Andrae's uncle, one of the most amazing pastors I've ever met.
After their son Bailey, my first grandchild, went to heaven just thirty days after God blessed us with him, Erin and Andrae faced extraordinary challenges.
They divorced. Erin went on to earn her paralegal certification, and Andrae eventually wound up working in Kuwait. But God had determined that would only be a chapter in the story of their lives, not the end.
Seven years later, I stood in her father's backyard and heard Pastor Edwards repeat the words that had, once before, united them as husband and wife. As I heard the fervent "Amen" and "Praise Jesus" echoed by Andrae's family during the ceremony, I smiled remembering how constipated I felt in my Christianity all those years ago hearing the congregational participation of Andrae's church.
So, at the end, when Pastor introduced us to the couple God has once again brought together, I heard myself actually speak out loud, my own "Amen." Perhaps, in those same seven years, I've come to terms with my weaknesses, my faults, my spiritual dumbness. But God showed me on Saturday, life is full of second chances. Life is full of "Amens" just waiting for us.
And I am certain Bailey in heaven is "Amen" rejoicing along with his parents."–Christa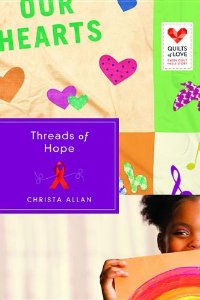 To purchase, click here. Threads of Hope: Quilts of Love Series (Quilts of Love (Unnumbered))
BLURB:
While Nina O"Malley, the heroine in Threads of Hope, did not have these same experiences, the thread that connects us is second chances.  When the story opens, Nina is a woman eager to succeed and yet hesitant to speak the truth. She's devastated when she discovers the man and the job opportunity she wanted belong to someone else.
What Nina doesn't know, her spiritual "dumbness,"  is that we serve a God of second chances for whom nothing is impossible. She learns, though, that sometimes the gifts we want are not always in the wrapping we expect.
 What a wonderful ending to a sad story, Christa! I wish your daughter and sil all the joy that the Lord gives. If you'd like to be entered in this week's drawing, visit her website and tell me one fact about her. Each commenter must find something different about Christa, no copying please. Have fun with it!–Lyn
Twitter: @ChristaAllan
Facebook: