Author Cynthia Ruchti & "Devos for Women on the Go!"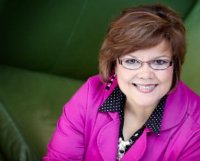 My guest today Author Cynthia Ruchti is one of three authors who have written another devotional book in their series, "Devos for Women on the Go!"  Here's Cynthia.
"Strong women? They were at the heart of our thoughts when we four novelists (Sandra D. Bricker, Loree Lough, Trish Perry, and me) created the third in the "Devos for Women on the Go" series—His Grace is Sufficient…Decaf is Not from Summerside Press. Women who care about discovering more layers to the wonders of God's grace grow stronger every day. The devotionals we wrote for this collection reveal the fingerprints of grace on the surfaces—and the depths—of everyday life. We lived the moments, both the exhilarating and the excruciating. We found His grace more than sufficient and decaf sorely lacking.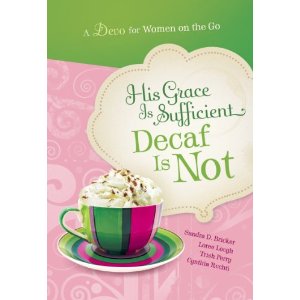 Strong women are at the heart of His Grace is Sufficient…Decaf is Not in another significant way. A portion of the proceeds from the book is donated to OCRF—Ovarian Cancer Research Fund—in honor of those who fight to find better early detection methods, those who fight the disease, and those who love them.
The book is dedicated to our friend, author Diann Hunt, a woman of incredible strength and faith who lives each day of her current battle against ovarian cancer and its aftereffects with a commendable grace that inspires us all.
You can purchase His Grace is Sufficient…Decaf is Not at your local bookstore or online sources such as amazon.com, christianbook.com, barnesandnoble.com, and others. Check out the authors' other projects on our websites: www.cynthiaruchti.com, www.trishperry.com, www.loreelough.com, and www.SandraDBricker.com.
What are our hopes for His Grace is Sufficient…Decaf is Not? We long for the life stories, insights, observations, and heartfelt prayers to stir readers with the joy of grace worth sharing, a sustaining, embraceable grace."–Cynthia
Thanks so much, Cynthia. I lost a dear cousin to ovarian cancer. I've endorsed at least one of DiAnn Hunt's books. God bless her. Have any of you been touched by ovarian cancer?–Lyn