Author Rachel Hauck & Love Well
My guest today is Rachel Hauck and she is going to tackle a subject that is difficult for her heroine and many real women–how to love well–when it's hard. Here's Rachel:
the paralyzing premise
"When writing, I often find myself with what Susie Warren and I call "the paralyzing premise."
These books are hard! I've somehow developed a concept and title that's a bear to match the story to!
When I came up with the Royal Wedding Series, the first book idea, "How To Catch A Prince," ended up being the third in the series.
See, Prince William carried around his mother's engagement ring for three weeks in a ruck sack waiting to propose to Kate. He was nervous, careful not to lose such a valuable possession.
I thought, "What if he lost it?"
But when I started my own "catching a prince story" I wasn't exactly sure what to do with it. I wanted something unique but I had to include the concept conveyed by the title.
I was on my third do-over of the book last January when a physical issue literally knocked me to the bathroom floor.
Despite my health issue and struggles with sleep and any creative juice whatsoever, I had a deadline. I marched myself upstairs to my office every day. By the grace of God, I wrote five thousand words a day for over two weeks.
As the story opens, Corina. an American heiress, is in mourning. Her twin brother was killed in Afghanistan. And everything in her life fell apart.
There's not enough money on earth to heal her pain.
Only love can.
The term "love well" fell into my heart and onto my heroines journey.
When she finds herself face-to-face with the husband who rejected her, she must dig deep to "love well." Even if it means granting him the annulment he so longs for.
Most women are geared toward loving, even sacrificial loving. But when it comes down to it, most of us will protect our own heart before surrendering to a love that costs us everything and gains us nothing.
I'm not talking about abuse.
That's a different category. And the "love well" depicted in the much ballyhooed "50 Shades of Grey" is just glamorized abuse.
Loving well sometimes means we don't voice our want or opinion.
For me, around my house, it's "so what" I do the lion share of the dishes. So what I'm the one  who makes the bed 99% of the time.
What if loving well means I let my husband know how much I appreciate all he does even if he forgets to tell me?
What if loving well, in Christ, doesn't look like a score card?
What if loving well produces love in others?
Look, I've not perfected loving well at all, but as I watched my heroine develop on the page,
I was challenged to follow her path.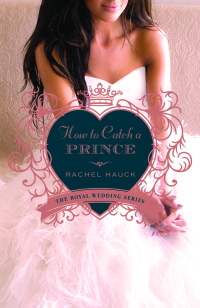 To purchase, click here. How to Catch a Prince (Royal Wedding Series Book 3)
While How To Catch A Prince is not a sermon or "how to" book, I hope readers are inspired to love well when they've concluded the story.
QUESTION: What about you? Is loving well a challenge? Do you pick on your kids faults more than polishing the nuggets of their talents? Do you hold back love because you don't feel loved?–Rachel
For more online: