Author Ruth Harris & Have You Heard About Zuri?
My guest today is NY Times Bestselling author, Ruth Harris. I've come to know Ruth on an email loop of authors who are re-publishing books in digital form, such as Kindle. I have grown to love her wit and appreciate her kindness. And when she announced a new original novel, titled Zuri, I asked her to guest here. I found the HOW of this books so interesting. I hope you will too! Here's Ruth:

"ALL ABOUT WRITING ZURI
ZURI was born via an accidental collision. Out Of Africa, set in Kenya and  starring Meryl Streep as the Danish writer Isaak Dinesen, and the young, golden Robert Redford as a white hunter is one of my favorite movies. I watch it every now and then and had just seen it when, while flipping thru TV channels, I happened to see a clip of a baby rhino. I was blown away by the little rhino's appeal and gracefulness.
A rhino? Adorable? Yep.
I was also aware via newspaper and internet articles that poaching was decimating the rhino populations of Africa & Asia and, so, the germ for the book was firmly planted.
The need for a great deal of research was obvious. I had to find out about the newest discoveries in animal communication, the hard work involved in conservation efforts, the gory reality of poaching and the criminal gangs who profit from its bloody endeavors, details of rhino husbandry & veterinary, the amazing work of African animal orphanages, the dangers of wildlife rescue, rhino and elephant behavior—Zuri has elephant and other animal friends in the novel—Swahili words, Kenyan cuisine & wedding rituals and on & on….& on!!!
The research was totally fascinating. Did you know that the illicit trade in wild animals is third only to the illegal trades in drugs & weapons? Or that rhino horn—it's actually keratin, the same material found in feathers and nails—is considered a miracle medicine in Asia, and is, in fact, of zero medical value? The price of rhino horn, driven by booming Asian economies, is now more expensive than gold.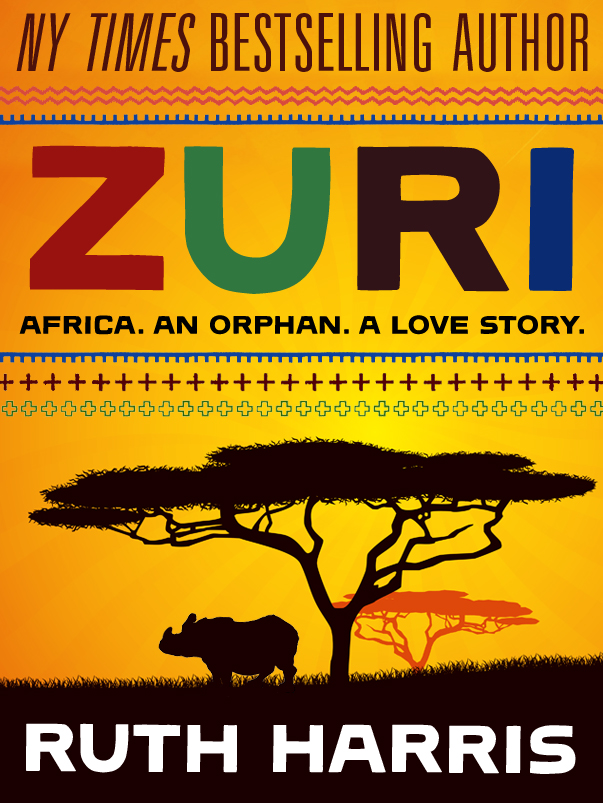 Of course, me being me, a writer of romantic women's fiction, I wanted to add a love story. Therefore: Renny Kudrow, the sexy expert in animal communication and Director of an animal orphanage in Kenya—and Starlite Higgins, the talented vet with a horrifying secret. Their relationship gets off to a rocky start when Starlite almost causes Zuri's rescue to fail and the two must work their way through their initial very rough beginning.
I think of ZURI as romance in its broadest sense, meaning love of nature, love of animals, and, of course, human love.
ZURI—which means "beautiful" in Swahili—is the name of the lovable and courageous baby rhino who is its heroine. ZURI is meant for adult and YA readers and is also perfect to read to a younger child or grandchild. No sex and no cursing but lots of romance."–Ruth
Now do you see why I wanted to feature this book? I love it already. Ruth has graciously offered a free EBOOK (digital) copy to one of my readers. Please leave a comment to enter the drawing. –Lyn

To Purchase Zuri–ZURI Africa. An orphan. A love story.
For more info on Ruth,

She blogs at WG2E and with Anne R. Allen. Here's a bio:  http://annerallen.blogspot.com/p/about-ruth-harris.html