Heartwarming Author Carol Steward & How to Balance Everyday Life with Creativity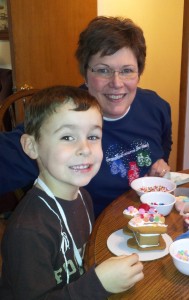 My guest today is my good friend author Carol Steward. (The photo includes her grandson–a cutie!) She shares her thoughts about balancing her day job with her creativity and writing. If you're not a writer, you might substitute quilting or scrapbooking or painting–whatever you do as a creative outlet.

BTW, CAROL IS GIVING AWAY A FEW COPIES OF HER LATEST HEARTWARMING ROMANCE. So be sure to leave a comment.
Here's Carol.
The first thing I was told when I sold my first book was, "Don't quit your day job." There have been many times in my 20 year writing career that I have been thankful I listened to that advice. And many times I've wondered what would have happened had I taken the other route.
Writing in addition to a "day" job has challenges, but it also has benefits. I can honestly share both, as I've spent most of my "writer life" with at least 2 jobs, in addition to writing. Strong? Or Crazy? You decide, I guess. Whichever you decide, I believe strong women prove there is truth to the saying, "If you want something done, give it to a busy person." Strong women get it done!
Challenges of a day job:
Sleep – I admit, I have always been a night owl whose "normal" rest was 5 hours, so this wasn't a problem for me until I hit a rough patch in life which caused me to love sleep – AKA, depression. You have to know your limits. You do what you have to do to survive.
Health – Direct correlation to the lack of sleep. The body needs rest to rejuvenate itself. I'm not a medical professional, so I won't expand on this point. I will say, don't ignore your health. One thing you don't want to live without.
Time with loved ones – it's a challenge, but not an insurmountable one. Choose Quality over Quantity.
Loss of creativity MAY be an issue; depends on you and your job. One of the jobs that fueled my creativity the most was delivering newspapers at 2 am. One of the most draining was data entry.
Emotional drain – giving so much to so many can catch up with you. Take care of yourself so you can be there for others.
Time away from writing -means you can't always take a break to write down a brilliant scene. Learn to take good notes. Great ideas often come from situations you would not have encountered had it not been for your presence at your day job.
Physical activity – In my case, when I'm writing, I spend 60 – 80 hours a week in a chair. Not all day jobs are at a desk, granted, but that is something everyone must consider. I've tried dictating programs and standing at a computer, with some success, but nothing to make this one a "benefit."
Benefits of a day job:
Extra demands on your time require you to "compartmentalize" your life. Set a Schedule and be realistic. At one point, I had to face that I wasn't going to meet a deadline and took an unpaid leave from my day job to catch up. That reality check was worth the temporary loss of cold cash.
Regular paychecks. I was very close to leaving my day job when I sold 4 books in one year. I just couldn't do it. The next year, my husband lost his job, and I thanked God for all the writers who put "don't give up your day job" in my head.
Health and Retirement benefits – possibly both from the perspective that your day job offers these, along with the higher percentage of the cost comes out of the employer's pocket rather than 100% from a self-employed person's income.
Quality time rather than quantity of time with loved ones – just make sure they know you will always be there when they need them – day job or writing full-time – this is one equalizer to my argument. Even when I wasn't under writing contracts, I can't say that my "Quantity" time with my loved ones was any better quality than when I was writing and had "Quality" time to spend with them.
Creativity is different for everyone, and different types of jobs drain creativity or nurture creativity, so finding a way to feed your creative juices and nurture the writing is up to you. Goal, Motivation and Conflict in real life. How much do you want both careers? Make it happen.
Emotional boost from giving 100% of your gifts to the assignments God has given you – whether it's to family, writing, day job, God or commuity. If you're happy it's going to be good for your health and well-being.
Scheduling writing time IS crutial to the outcome of writing. If you 'fit it in' when you feel like it, you're not going to feed the creativity. I guarantee, you won't feel like it. BICHOK is the only guarantee to writing a book. (If you've not heard this term before, google it. There are lots of great blogs on the topic.)
Physically, working two jobs is hard on the body. If you're in retail and come home to write, count your blessings. Really. Whether it's scheduling an hour for exercise, or simply taking more breaks, MOVE OFTEN. Personally, I suffer back problems, which have gotten worse the longer I work "in a chair." If you're young, and just entering a writing career, learn how to take care of your body, especially your back. IT WILL CATCH UP WITH YOU IF YOU DON'T.
As I have eluded to here, to maintain what little sanity I had left I had to take time off from writing. For many depressing reasons that I'll spare you. Now my life is back on an even keel and I'm determined to get back into the writing career I loved so much. I will not be leaving my day job and I will be re-reading this list to remind myself of these lessons I've learned along the way.
Everyone needs a break now and then, and we must give ourselves permission to take that break. To let God heal. To refill the cup of creativity. When you do, you will reap the rewards He has for you."–Carol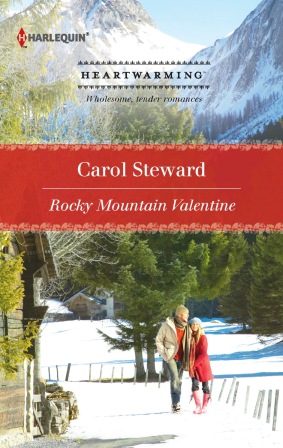 To purchase, click here. Rocky Mountain Valentine (Harlequin Heartwarming)
Blurb:
As a photojournalist, Lisa Berthoff knew better than to let her personal feelings about a subject interfere with a job. But when the subject was rugged cowboy Adam MacIntyre and his beautiful ranch, Lisa found it impossible to stay objective. Not when, for the first time, Lisa felt like she was home—on the ranch…and in Adam's arms.
Adam knew what he wanted out of life: to live on the land of his ancestors and stay close to his family. Then along came footloose Lisa Berthoff, who was distant from her sisters and lived out of a suitcase. His siblings might have all happily marched down the aisle, but Adam wasn't about to fall for a drifter who didn't believe in settling down. Or was it already too late?
Carol brought up many points about balancing all the facets of her life.
Quesions:
What helps you keep your life in balance? Or what point do you agree morst of least with Carol on? Leave a comment and be entered into the multiple drawing.–Lyn