Lyn Interviews Author Tyora Moody & Deep Fried Trouble!

My guest today is author and author promoter Tyora Moody. Here's Tyora's interview and scoop about her latest book–DEEP FRIED TROUBLE! (That's the worst kind of trouble! 🙂

Tell us a little about your writing and your real life, Tyora.
I have worked with authors for over twelve years behind the scenes. I'm still pinching myself that I'm on the other side as an author now. I have always enjoyed writing, but the real starting point of my journey started in 2006. Characters showed up during my journal time and I found myself writing the type of novels I had been seeking. My novels are mystery and suspense under the Christian Fiction genre. What's unusual about my books compared to the other books in this genre are the diversity of characters.  The stories reflect my diverse upbringing as well as my love for a good faith-based whodunnit.
When I'm not writing, I'm usually working on a virtual project (coordinate virtual book tours, hosting Facebook or Twitter chats) or a literary project (designing a book cover, scripting a book trailer, etc). I'm an all-around creative person. I simply refuse to be bored. 🙂
Was there a time in your life when you think God challenged you to become stronger? Please share.
 

Definitely! I never imagined being divorced and not a mother by now (early 40s). My parents are aging now and I'm finding myself in a place of being more aware of their health. A lot of circumstances can change in  the blink of an eye and it's so easy to lose your footing. I have had to come to learn to become more dependent on God versus the natural desire to become super independent.  Strength is the ability to stand tall and do by yourself with a smile on your face. We are human and we are limited in our capacity to take on but so many burdens.
What is special about your most recent book to you?
The book Deep Fried Trouble is the first adventure of a retired schoolteacher and grandmother. It's set in my favorite place in my state – Charleston, SC. A lot of authors may not want to be pushed into choosing a favorite character, but I generally love writing stories around the main character, Eugeena Patterson. She represents many of the older women who serve as mentors in my life. Let's say I hope to grow up to be like her one day. LOL!I also deal with some issues you may not find in a fiction book. Eugeena Patterson has Type 2 Diabetes and as a recent widow, I wanted to explore the possibilities of romance during senior years. Is it possible to fall in love again in your 60s?"–Tyora
Thanks so much, Tyora, for being my guest. And yes, romance survives into senior years! The heart never ages.
OR AM I WRONG ABOUT THAT? DO WE EVER GET TOO OLD TO FALL IN LOVE???–Lyn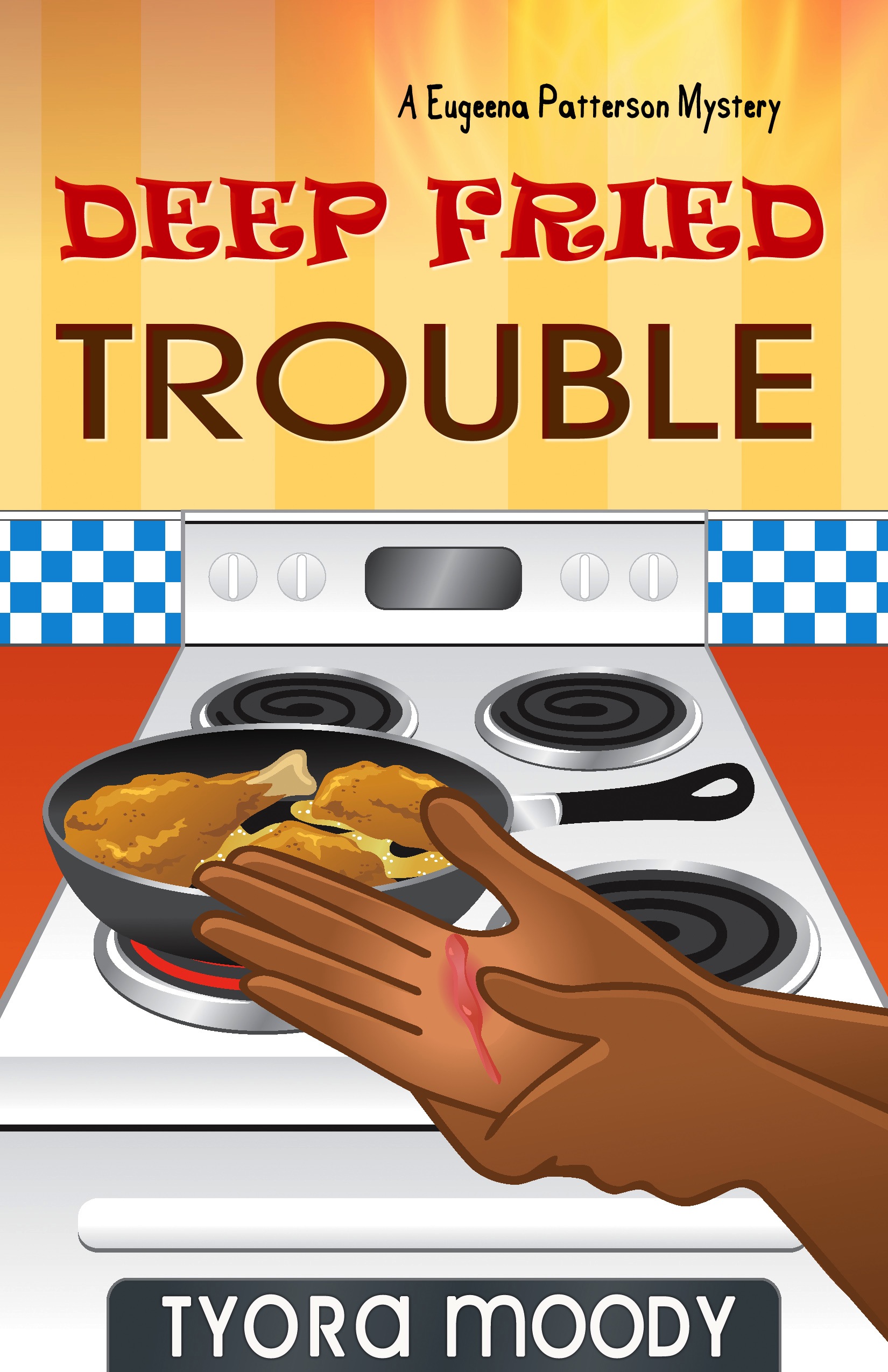 To purchase, click here. Deep Fried Trouble (Eugeena Patterson Mysteries)
ABOUT THE BOOK
Deep Fried Trouble
A Eugeena Patterson Mystery, Book 1
Widowed and officially retired, EUGEENA PATTERSON throws herself into organizing the neighborhood association. This presents a great opportunity to re-connect with old friends and get to  know new neighbors like recently widowed Amos Jones, that is  until Eugeena stumbles upon her estranged neighbor's dead body. Eugeena's daughter is fingered as a prime suspect, but where is she?
Determined to find her missing daughter, Eugeena and Amos sort through a list of neighbors with shady or unknown backgrounds. The more she searches, the more Eugeena becomes unsure about this neighborhood association idea. Someone closer than Eugeena thinks, wants to keep it that way.
BIO
Tyora Moody is the author Soul-Searching Suspense novels, Deep Fried Trouble (June 2013), When Memories Fade (April 2013) and When Rain Falls (March 2012).  She is the 2013 Urban Literary Awards Debut Author Winner and 2013 Urban Literary Awards Mystery/Thriller/Suspense Winner.  Tyora is a member of Sisters in Crime and American Christian Fiction Writers.
As a literary-focused entrepreneur, she has assisted countless authors with developing an online presence via her design and marketing company, Tywebbin Creations LLC.  Popular services include virtual book tours, book trailers  and book covers.
++++++++++++++++++++++++++++++++++++++++++
VICTORY GOSPEL SERIES

When Perfection Fails, Book 3 (March 2014)
When Memories Fade,  Book 2
When Rain Falls,  Book 1
EUGEENA PATTERSON MYSTERIES

Oven Baked Secrets, Book 2 (November 2014)
Deep Fried Trouble, Book 1
Shattered Dreams: A Short Story
PS-Last week's winners are:Bonnie Traher for GRACE UNPLUGGED & Maxie won Hannah Alexander's KEEPING FAITH!