Do You Remember La Belle Christiane?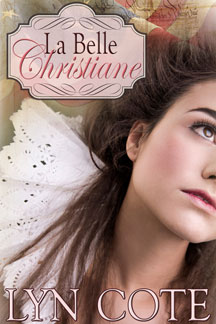 If you do, that means
you've been reading this blog for a while. Back in 2011, I posted La Belle Christiane, the novel, the first one I ever wrote on this blog as I revised it. The tab above Archived Free Read is where it explains how I wrote the story and keep it in serial form.
After posting it for comment from readers, I had it edited professionally and had a beautiful cover made and then put it up on Kindle, Nook, Smashwords. It's also available in print.
But if you read it, you know that I had already written the sequel to it, Lady Sarah.
I've had many request for this book which is the story of Christiane's daughter who lives in the exciting period of the new republic, the United States of America.
Of course as you recall, Christiane was the daughter of a French courtesan. She had trouble finding her way to God's light, but did at last. Her daughter, raised in a Christian home, proves again that Christ has no grandchildren. Each generation must find him for themselves.
Now why am I bringing this up?
The problem is that I wrote this book early in my career and it needs extensive revision. So I am planning on revising it and posting a scene every Wednesday starting soon. I probably won't post all of it, but a good portion about the first third to get me STARTED!
So give me a push!
Would you like to read the beginning of Lady Sarah? And encourage me with comments and suggestions–and find my errors? I could use some motivation! Help please. If nobody wants me to do this, I won't! But I need a push! Which means I'd like you to say yes, but I'll respect any honest reply.–Lyn
THIS POLL WILL REMAIN OPEN TILL TUESDAY MARCH 11TH!
[yop_poll id="2″]
La Belle Christiane--Can the beautiful daughter of a French courtesan
find a love that will last a lifetime?
To purchase from Amazon.com, click here. La Belle Christiane (Patriots and Seekers)
[subscribe2]