My Sister Carole, The Smiling Cat Quilter!
Daisy-An Appliqué Cat
Hi-My name is Carole, and I'm so happy to be a guest on my sister's blog. Though a longtime quilter, I only recently began writing a quilting & general sewing blog, where I share my projects. You can look me up at: The Smiling Cat. 
I only get to see my big sis, Lyn, once a year, usually in the summer, at her lovely home in upper WI.
Biennial Quilt Show–serendipty?
Last summer we spent an afternoon at a quilt show in nearby Eagle River. The Trees for Tomorrow Park provided the perfect setting for the Cranberry Country Quilt Guild's 'Walk in the Woods' Quilt Show. Beautiful quilts displayed informally outside on clotheslines between the trees.
Along with the quilts were lots of vendors, such as Laura Krasinski, who was representing Bigfork Bay Cotton Co. She was also selling her first original pattern, Daisy, a raw-edge, appliqué cat pattern. My sister bought the pattern and I promised to make it for her. She wanted to have something made by me to hang in her office, she's such a sweetie. When she asked me to be a guest on her blog, I thought it would be the perfect project to share.
The 'Daisy' Pattern can be found at Craftsy.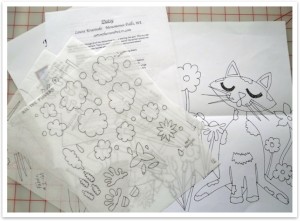 This is not a pattern for beginners;
at least intermediate appliqué skills are needed. The pattern includes a layout guide and three sheets of fusible web with the pattern pieces already printed on them. The instructions are very general, leaving most decisions up to the quilter.  It's designed to use up small scraps of favorite fabrics. The original Daisy pattern was fused, raw-edge appliquéd and then simply quilted. I decided to loosen up and see where the pattern would lead me.
First, I got out my rayon machine embroidery thread, and started matching fabrics with the threads. I tried to choose a nice variety of colors and since the pattern pieces where small, I stuck to mostly solid fabrics.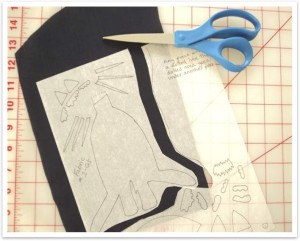 The first step of the pattern is to stitch together the cat.
I decided to make a black & white cat to match my cat,
"Miss Cookie." (See Below)
(Somehow Miss Cookie does NOT look very happy!  NOT MY SISTER'S DOING–she's a catlover like me 🙂

I found that my blog didn't like too many photos! To see how this all comes out, you need to click here to go to my sister Carole's quilting blog:
So go see what my sis made me! I can't wait to hang this heirloom on my office wall. I love you, Carole!–Lyn
PS- Nat won Kathleen Fuller's Letters to Katie! And AmyC won Danyelle Scroggins's Destiny's Decision. Congrats!