Lyn Cote Interviews Historical Author Laurie Kingery

I have the pleasure of interviewing Love Inspired Historical author Laurie Kingery today. She's also offering a book giveawy so be sure to leave a comment!
Tell us a little about your writing and your real life, Laurie.
–I'm a Texan-in-exile living in rural central Ohio. I met my husband via eHarmony—it works! I'm a mother of two daughters, grandma of ten (with one more on the way!) I have three dogs, a collie, a sharpei-pitbull mix and a Bernese Mountain dog. In my "other life" outside of writing, I'm an emergency room RN of 42 years (4 more years to retirement, halleleujah! ?)
I've been published since 1987, having written my first 16 historicals in the general market as Laurie Grant. I switched to writing Christian fiction under my own name and have written eight books for Love Inspired Historicals with more on the way. Due to working hours at the other job being at night, I write in the afternoons, though of course at deadline time I'm writing more or less nonstop.
Was there a time in your life when you think God challenged you to become stronger? Please share.
There have been many challenging times—I think none of us through life without that, but I think the hardest one was when my previous husband left me for another nurse in the same ER I worked in. The Lord was very present and real to me during that time of heartbreak, and He sustained me during those years alone, enabling me to take care of a two-acre rural home by myself. I became stronger and more self-reliant during that time. Then He guided me to Tom, and "restored the years that the locusts have eaten" to use a Bible verse found in the book of Joel. Today, life is truly good and we are blessed.
What is special about your most recent book to you?
I enjoy writing "fish out of water" and "clash of culture" stories, and HILL COUNTRY CATTLEMAN is certainly both of those. Violet Brookfield is a disgraced English aristocrat, sister of a viscount, and must flee England just ahead of scandal when a libertine lord nearly ruins her good name. She thinks to bide her time with her brother and his wife in the hill country of central Texas where he has resettled, gathering material for the western novel she aspires to write until she can return to her earl, whom she believes will wait for her. She never counts on meeting her true love in the form of a real Texas cowboy, Raleigh Masterson—nor does Raleigh think an English noblewoman could ever fall for a landless fellow such as himself.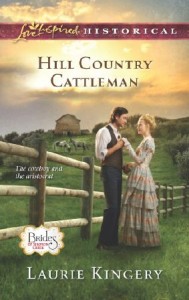 To purchase, click here. Hill Country Cattleman (Brides of Simpson Creek)
Violet thinks of religion as just another social duty, while Raleigh has recently come to faith during a near-disaster. But they have a love of horses in common, and when she discovers a way for Raleigh to win a ranch of his own in a horse race, she's compelled to help him. And he helps her find her way to the Lord. I enjoyed writing this story because I believe that with God's help, love will always find a way. And of course every Christian novel contains some sort of faith journey, and watching Violet come to faith on the screen before me was very rewarding.
Thanks, Lyn, for this opportunity to talk about HILL COUNTRY CATTLEMAN. I hope your readers will leave lots of comments for me to respond to, and or course one lucky commenter will win a copy of the book." Blessings, Laurie Kingery
I love how candid my guests are about their struggles. And I love a happily ever after ending. And now we know eharmony.com works! Don't forget to leave a comment to be entered into the book drawing.

QUESTION: Has anyone ever betrayed your trust? You don't need to go into details, but please share any insight you gained from this dreadful event.–Lyn
www.lauriekingery.com       @LaurieKingery on Twitter