A Recipe That Made My Husband Nearly Dance with Joy! (And the January Question)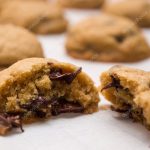 I know that chocolate chip cookies aren't Christmasy–like gingerbread, spritz etc. Tell that to my husband!

A friend (author Roxanne Rustand) gave me this recipe, but then another friend served us vanilla-flavored chocolate chip cookies (made by adding a box of vanilla pudding mix) and that gave me an idea.
I added more vanilla to the original recipe and when he tasted it, my husband nearly danced aorund the kitchen. And then I decided to toast the pecans before adding them in. Toasting nuts brings out their natural oils and FLAVOR. Then my husband did dance around the kitchen! (kidding–he was too busy chomping!)
So if your husband is like mine and wants chocolate chips cookies for Christmas, this one's for you!
Amazing Chocolate Chip Cookies
3 sticks butter, softened, no substitutions
1 cup white sugar
1 cup brown sugar
two eggs
3 1/2 cups all purpose flour
1 teaspoon salt
3 tablespoons vanilla (Yes, THREE—you won't believe how this increases FLAVOR!)
2 cups milk chocolate chips
2 cups semi-sweet chocolate chips
2 cups pecan halves or pecan pieces (toasted in the oven first-this also amps up the flavor)
Preheat oven to 365°. Cream butter and sugars, then add eggs and vanilla; beat until fluffy. Add to dry ingredients and mix. Stir in chips and nuts. Drop by spoonfuls onto a greased cookie sheet. Bake 12 to 15 minutes till lightly browned. (Don't over-bake.) If you like them crisper, smash them somewhat flat and bake at 375° for 15 minutes.
Now for the January Question: What's January like in your neck of the woods? Happy there or not? (Aren't you glad I didn't ask you about new year's resolutions, such as exercise, calories, etc?:-) Or do you have any funny Januray stories? Please share a few commenters will be randomly chose for a free ebook. Happy SWEET Christmas!–Lyn