2020 Chritian Fiction Scavenger Hunt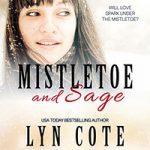 WELCOME TO THIS YEAR'S Christian Fiction SCAVENGER HUNT!
FYI~ For completing this year's scavenger hunt, the prizes (in USD, Amazon gift cards):
$350 first place
$250 second place
$150 third place
The contest runs from December 6-12.
However, the best prize each participant can "win" is finding new authors and books to read!

 
My Book Info
A new deputy in town and a single mom, both with wounded hearts and with a puzzle to solve together–will love spark under the mistletoe?
That's a bit about my romance-mystery, Mistletoe and Sage. This holiday novella is book 5 in my Northern Intrigue series, set in the northwoods of Wisconsin where I live! (FYI~Each book is complete in itself, merely sharing some characters and setting.)
Deputy Sage Carey Dietz lost her first love and must now raise little Tucker alone. She's forged a career in her hometown, joining the local sheriff's department. In her low crime county, she is blindsided by a nasty act of vandalism.
Earlier this year Garrett Connolly thought he'd found a lasting love. Instead he left his home for a new start as a deputy sheriff in the northwoods.
Deputies Sage and Garrett find themselves working side by side to solve escalating vandalism. The target of the vandalism is what makes for a situation with high stakes. The nastiness is aimed at homes of the affluent new residents. These new residents provide so many needed jobs and fresh cash to their struggling rural county. Who is targeting the new homes? And perhaps making it unlikely others will come and build new houses near Steadfast?
On the personal side, can Sage feel love again? And is Garrett chancing a rebound romance? Welcome to Steadfast, Wisconsin, a town whose people and mysteries you may never forget. One reader said this exciting mystery romance had "characters who will feel like old friends by the end of the story!"
Every character I write becomes dear to me. But Sage possesses a rare spirit of always looking on the bright side, never letting the circumstances that surround her make her feel like less than she is or could achieve less than she could. A strong woman!
Now let's begin this scavenger hunt! Go to Amazon by clicking this link. You will be taken to Mistletoe and Sage. Please click the Look Inside feature at the top of the book cover.
There find the answer to this question:
How many years did Sage live away from her hometown of Steadfast?
Remember that you must answer every question from all 37 authors in this collection and that the round-robin will end on December 12th at 11:59 PM EST!
Enjoy your Christmas and happy reading!—Lyn Cote