Lyn Shares a New Recipe-Taco Casserole!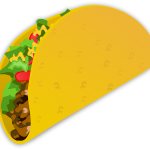 I like to experiment in the kitchen. I am more of what I call a Pinch Cook than a Recipe Cook. When I was learning to cook, I would come home from high school and look in the fridge and see what my mom had left to thaw for supper. Then I would figure out what to make with it. I still do that and a few weeks ago, this is what I came up with. My dh asked me to PLEASE write this one down! A sign of success! So here it is.
Taco Casserole Recipe
One and a half pounds of ground beef
One can of refried beans
One can of diced petite tomatoes, drained
One can of mushrooms, drained
1/2 cup salsa, your choice
One onion, chopped
Eight tortillas, your choice (Larger ones use fewer)
4 ounces of plain unflavored yogurt or sour cream
1/4 tsp garlic salt, cumin, regular salt and pepper (more to your taste)
2 cups of shredded cheese, your choice
Directions:
Brown ground beef, add onions and soften. Add and tomatoes, mushrooms, salsa and refried beans and spices, stir well and warm. Lay four tortillas in the bottom of sprayed 9 x 13 pan. Spoon one half of your mixture onto the tortillas. Another layer of four tortillas. Smooth sour cream or yogurt over these tortillas. Sprinkle half the cheese over that. Top with remaining mixture and finally the remaining cheese. Into a 350 degree oven for about 25-30 minutes-till it bubbles. Bake uncovered for 10 more minutes. Serve with salsa and shredded lettuce.
Buen provecho!--Lyn (Bon Appetit in Spanish! 🙂
PS- Tell me what you think of it and do you make up recipes too?
SaveSave
SaveSave
SaveSave