Another Christmas Special-A Short Story by Author Janet Chester Bly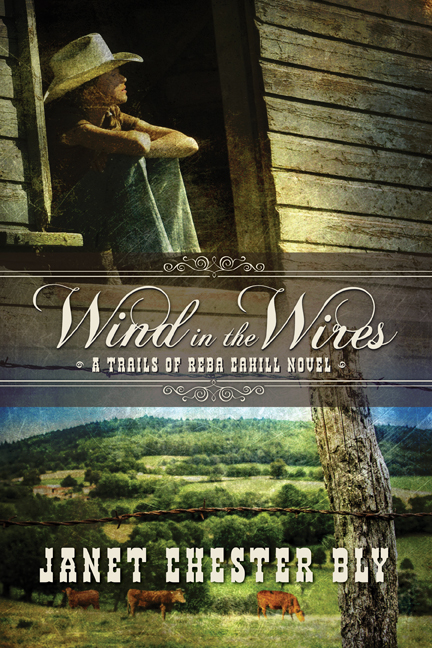 Another Christmas Gift, the first part of a short story by my friend and author Janet Chester Bly. I will post the end of the story on Thursday. Enjoy!
Cicely's Hats
by  Janet Chester Bly
copyright@2001
On the June morning Neoma Hocking and her grandchildren left St. Joseph, Missouri, no one saw them off. They loaded her late husband's extended cab truck and fifth wheeler with vacation gear and drove a determined route up Highway 29 past twisted hollers, rocky terraces, and thick forest fences, lifetime familiar scenes. Now home was a retreating landscape in her rear view mirror. Home was a shell of a house with all the furniture stored and only a phone still hooked up.
Neoma resisted the strong urge to call one more time before crossing the Missouri border…to check for messages, just in case. She chewed antacid tablets and stole a glimpse at the kids in the back seat. Twelve-year-old Becky met her glance with a glazed and glum look. She crossed her eyes in that way of hers that meant, "Don't dare ask what I'm thinking." Her five-year-old brother, Ned, bounced like a caged puppy against every section of the seat belt. At least they're not fighting yet.
Two thousand long miles of prairie, mountains, and desert to cross. The corn rows got smaller, dryer. The sky popped open to a full, blazing sweep. Neoma refereed spats and navigated highway signs. Two delays for pickup repairs. A blown out tire in Nebraska. Skies over Nebraska cornfield glowed red, thanks to volcanic particles from halfway around the world. Sunsets took on lustrous tones of red, orange, yellow. Beauty in the midst of chaos. A broken drive shaft in Wyoming when a semi sideswiped them.
They whizzed past Utah.
Nights she called the empty house to listen for a message that was never there, prayed for patience and guidance, then tossed and turned on a flat trailer bunk.
Neoma stalled at Winnemucca, Nevada, one day short of the California coast.
"I'm headed west," Hank told Neoma and all their friends, two months before he was to retire. "I'm going to be the first descendent of Theodore Hocking to stick my bare feet in the Pacific."
Hank packed Theodore's gold panning supplies and Pony Express Bible in the fifth wheeler while Neoma imagined long visits with her college chum in Utah, a side trip to Aunt Cicely's in Idaho, long novels to read, and lazy evenings of pulling out new sable brushes and an old easel on sunset California beaches. Now Neoma studied a soiled and tattered map at the Winnemucca campground. The closer they got to the California state line, the harder her head pounded.
"Make Ned sleep with you, Nana. It's too crowded. I can hardly breathe."  Becky kicked dirt devils, hair strung out over sullen face and freckles.
She so resembled daughter Trish at that age. Neoma shuddered. And just as prickly.
Ned rammed Matchbox cars down dirt lanes, his arms and legs caked with unbathed grime. "Are we almost to Disneyland?" he asked over and over.
Neoma pushed her hand across the map trying to press the crinkles into smooth paths. Fatigue seeped into her bones. The kids beyond restless, she should keep to the route. There were duties to perform. She glanced at the camper that held the urn. Ashes over the Pacific, that's what Hank wanted.
"Aunt Cicely lives in Idaho," she ventured with some hesitation. "A place called Road's End. We might never get by this way again."  She avoided the kids' eyes and braced for the barrage of complaints. Just this once. Just for me. But Becky just shrugged and Ned kept playing.
Neoma roused them early the next morning and headed the truck for the minimum ten-hour trip north. She had Aunt Cicely strong on her mind when she edged up the rugged 4,000-foot grind of White Bird Grade. Aunt Cicely, her father's youngest sister, a prominent guest from the west at all family funerals and weddings. She was a colorful memory in Neoma's gray world.
"If Aunt Cicely comes, it's party time," Trish always said.
She had also lost a daughter. And three husbands. Aunt Cicely would understand.
When the truck grinded to the top of the mountain Neoma eased it across the rolling hills of the high Camas Prairie. Becky pushed her feet into the back of the driver's seat, pounding against Neoma's tense flesh.
Ned yelled, "Nana, Becky's pinching me."
Neoma squeezed down on the brakes. She pulled to the side of the road and ordered, "Becky, you sit up here with me."
Ned, raccoon eyes wide, cheeks smudged, sat white faced and sucked his finger. When Becky finally got into the front, she slammed the door and cranked her arms tight across her flat chest, face rigid. Neoma didn't know whether to try to hug the girl or slap her. Instead, she ran a loose hand down the tangle of red hair. Becky yanked her hair back, shaking it out.
By the time they reached the Road's End turnoff, the June sky swelled gray and overcast. The rough pavement curved between stands of aspens and groves of evergreens. Sunflowers and Indian paintbrushes burst across a meadow.
Road's End rambled like drifters had claimed temporary squatter's rights and moved on. All the roads were dirt paths. Empty shacks marked nameless residents who left, taking their stories with them. Yet, it seemed every house lit up and inhabited proved Road's End still had a reason to exist. Neoma thought it looked like the sort of place to hide, to be left alone to just exist or sort things out.
Or it could be a restful stop on the way to going somewhere else.
Neoma studied a handwritten chart of directions on the back of a Christmas card. She turned off on a dirt road and halted in front of an old two-story clapboard house. Six weathered steps led up to a large covered porch with wooden benches. The shades were all up. Angels and ivy etched the windows that topped the double front doors.
A breeze whipped around them as they eased out of the truck. Neoma inhaled sweet pine scents and stretched her stiff legs. She pulled jackets out of the trailer for the children.
"Does Aunt Cicely know we're coming?" Becky whispered.
"I wrote her we were coming west. She invited us to stop by, but I didn't promise anything. We'll stay an hour or two and head on down the road."
Dark clouds began to bunch up, like a flock of dirty sheep peering down. The door opened before they knocked.
The house reeked of popcorn and hot caramel and chocolate that covered a woodsy smell. Cicely Bowers swept long, thin arms around them. Bleached white hair swept up into a wide brimmed black hat, cocked to the side, and tied under the chin. A black velvet ribbon circled her neck, holding a white satin rose. Black leggings ended inches above 4-inch black spike heels. Cicely had the quick eyes of a canny mind, yellow cat eyes. Her words came fast, like skipped stones. "Neoma, how delightful. You and the children did come."
"I'm sorry to intrude on you. . ." Neoma began.
"Nonsense. Your rooms are all ready. You can stay as long as you like." She hugged each of them engulfing them in a heavenly scent of lilacs.
"We've got a trailer," Neoma explained.
"We're camping," Ned added.
"There's a squall coming in. It may even snow," Cicely informed them. "It's very warm and snuggy in here."
Becky gave Neoma a look of panic. "But what is there to do?"
Cicely twirled as though waving a magic wand. "You must come to the rec room." She fanned her fingers toward them, nails squared and red, all lacquered the same long length.
They followed her past a large kitchen. A pot of morel mushrooms soaked in salty water on the stove, floating like sea anemones. "Just picked them out of the forest," she reported.
Becky gagged.
Cicely didn't seem to notice as she led them to a room spilling over with books and games and black velvet ottomans. The walls were egg yolk yellow and blank, except for nails where something should be hanging. A window looked out on a large manicured yard with wooden seat and rope swings and a half basketball court. "The former owner had lots of children."
"We're going to Disneyland," Ned announced as he danced around the room.
Becky glared at Neoma, her eyes scratching through to her heart, and bumped against a tower of blocks in the shape of a fortress. The pieces scattered across the shiny wood floor.
Neoma felt the emptiness of depression settling in. She sensed disaster. "You've got to think before you commit," she could hear Hank say.
Becky picked at the mushroom fritters, fried chicken, and garlic mashed potatoes at dinner, but she relished the fudge sundaes for dessert. Cicely coaxed Becky to play with Ned in the rec room, throwing a rubber ball at ten plastic pins. She brought them homemade caramel corn mixed with peanuts in bright pink resin bowls.
"So, you're moving." Cicely wound her pencil thin legs around a stool in the kitchen.
"We have an option on an apartment. But, I don't know for sure."  Oh, why did I say that? Now she'll want me to explain. She attempted to change the subject. "Why do they call this Road's End?"
Cicely laughed. "Nothing tricky about it. It's because the only way to get out is to go back the way you came in. It's a culdesac."
The guest rooms had double beds lapped with bright colored quilts. The mattress squeezed spongy soft under white cotton sheets. After Neoma tucked Ned in and muttered a prayer, she made her nightly call to St. Joe. No messages from her daughter. As usual.
Neoma slipped into sweat pants and t-shirt. She wadded her pillow into a soft ball and fussed it against her neck. She soon dreamed of climbing a hill to her favorite park above the Missouri River. Hank leaned into her, his skin warm and shower fresh, his eyes bright, his spicy shaving lotion strong. An old longing shivered through her. A silent waltz of memory.
A young woman stormed horseback up the hill with Trish's flowing auburn tresses. She screamed something at them. Neoma couldn't understand the words so she tried to rush toward her daughter. Hank shoved her away before she was crushed under the sharp hooves. Hank took the blow, bloody prints on his chest.
Neoma stirred awake, trembling, with Ned's clean face peering over her. "Nana, get up.  We already ate breakfast."
Neoma winced with pain as she rolled out of the bed. She took a quick shower and slipped into the same jeans and pullover she'd worn the day before. She could hear Becky and Ned squealing in the backyard. She peered out the window. Cicely Bowers swung high over them, dressed in bright yellow, her hat tight on top her head.
Neoma surrendered to a moment of release. She embraced the brief elation as she hurried through the house to the rec room door. She stepped out to enter in. Yellow daffodils and red tulips bordered the yard. The taunting scent of pines and raw earth reminded her of the day they moved into the first home of their own. The house had been like an old woman with arthritis, always cranky, always needing repair. And the yard was stingy small. "Trish needs room to run," Neoma kept saying.
But Hank covered the yard of the new house with black plastic and gravel and lined it with evergreen bushes. "I just don't have time," his eyes penitent, full of workaholic guilt.
Cicely eased out of her flying swing, cherub cheeks flushed, and landed near Neoma.
"We've got to go," Neoma said. "The kids are itching for Anaheim."
"No, you don't." Her manner indicated that settled the matter. "We're going to try on hats."
Neoma followed the kids and Cicely upstairs to a dormer room, one huge walk-in closet filled with clothes in three colors:  black, yellow, and red. A long wall of rows of hooks hung with flowered hats, ribboned hats, and plain hats. In the middle of the room stood a large mahogany framed mirror.
Cicely studied the hats and pulled several down for Becky. She handed only one to Neoma, a satin floral jacquard brim and sisal crown trimmed with a gardenia blossom. Neoma could almost smell the gardenia fragrance, it looked so real. She imagined on the head of a stylish model in a Renoir painting.
Neoma eased the hat on and tillted it to the side. The grosgrain band felt soft, firm against her head. She expected the kids to laugh. But Becky was too busy trying on her own, a perky panama style held on with a chin strap. Ned climbed up on a dresser to reach for a cotton ducking cap with coffee colored long bill. Cicely pulled it down for him and he pranced around like a cocky young Hemingway.
Neoma peered back into the mirror, startled at the spectacle of grungy grandma at the hat shop. It had been so long since she did anything with her hair. She wondered what some auburn highlights and a little makeup would do. She reached up for the rim, tilted the hat and sighed. This would have been perfect for Trish's wedding.
Everyone they knew in St. Joseph, especially in the church, looked forward to Trish's marriage to Davis Stanton. The women sewed curtains for the social hall and cushioned the pews. The choir director wrote a song for the couple and sang it from the balcony. Trish Hocking, the unwed mother, finally settling down. Davis Stanton, new believer in Christ, formerly into drugs and hard living, now prepared to be a husband. Becky Hocking, six-years- old, ecstatic to have a father.
Wind in the Wires, Book 1, A Trails of Reba Cahill Novel
Contemporary Western Mystery.
A road adventure with a touch of romance.
It's Cowgirl Lit.
Free stuff, blog & store: http://BlyBooks.com
On A Western Trail Blog: http://BlyBooks.blogspot.com
Almost Monthly Newsletter Sign Up: http://bit.ly/1i82Kah or
http://www.blybooks.com/contact/stephen-bly-books-newsletter/
Remember, the end will be posted on Thursday!–Lyn