Author Camy Tang & Protection for Hire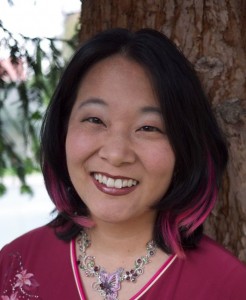 My guest today is author Camy Tang who has written for Love Inspired Suspense and for other publishers. She is one of my favorite people to share a meal with at a conference. BECAUSE SHE'S FUN! I love her perky smile and great sense of humor. Camy is going to tell us about her latest suspense series and one of her charities & a book giveaway. So here's Camy:
"In my humorous romantic suspense novel, Protection for Hire, one of the main settings is Wings domestic abuse shelter. My heroine, Tessa, is driven to champion women, and I naturally wanted her to work with women who needed her help. I didn't want to use a real San Francisco shelter for my book for various reasons, so I created Wings but based it loosely off of a real women's shelter in San Jose called Heritage Home.Heritage Home is a shelter for pregnant women run by CityTeam Ministries, and they provide shelter, training, and spiritual encouragement for homeless pregnant women. They're run out of a glorious Victorian house in downtown San Jose, which is maintained by volunteers and donations, and which provides a real atmosphere of "home" for women who are at some of the darkest points in their lives.
I've donated to Heritage Home and also taken a tour, meeting some of the staff and some of the women. Their stories and their courage was the seed that made me write about Tessa, her client Elizabeth, and Wings domestic shelter in Protection for Hire. Since I made Wings a domestic abuse shelter, it's a bit more secretive than Heritage Home, and I gave Wings a rather hefty security team, which made for some fun scenes in both Protection for Hire and the opening scene of A Dangerous Stage.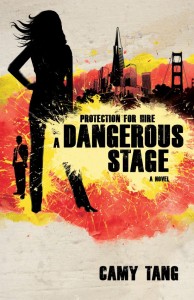 To purchase, click here A Dangerous Stage (Protection for Hire)
You can find Heritage Home on the web here: http://www.cityteam.org/san-jose/heritage-home/
I also hope you'll enjoy my Protection for Hire series! You can find out all about the series on my website here: http://camytang.com/books/protection_for_hire_series
Today I'm giving away a copy of A Dangerous Stage!
Answer this question: What particular ministry do you donate to, and why? What about them tugs at your heartstrings? I'll announce a winner via random number generator on February 4th.
Find me on the web:
Website: http://www.camytang.com/
Blog: http://camys-loft.blogspot.com/
Facebook: https://www.facebook.com/CamyTangAuthor
Twitter: http://www.twitter.com/camytang
Goodreads: http://www.goodreads.com/group/show/49078
LAST WEEKS WINNERS:
Patti Gellner won Linda Goodnight's book and LIsa won Mary Moore's. CONGRATULATIONS!