New Mom, New Author Jessica Keller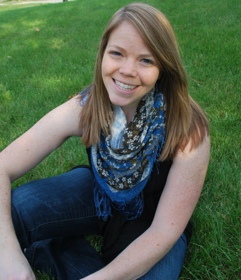 My guest today author Jessica Keller came up with a creative excuse for not sending me her material on time–her firstborn, a little girl, came two weeks early! She's home now with baby and still managed to send me her blog last night. Bravo, Jessica. She's also offering a book giveaway of her debut, Love Inspired Romance, Home for Good. Here's Jessica:
"When I think of strength an image of my grandma always comes to my mind. At 92 she still owns her own home and enjoys an active life gardening and spending time with her many grandchildren.
At her age, that alone speaks to her strength, but it's the stories my mom has told me—things that happened long before I was born—that stick in my mind.
With one too many mouths to feed, my grandmother was cast out of her family home in the Netherlands at the age of fifteen. She had to pack up her belongings and try to find a place to live, a job, and food to eat.
After her and my grandfather married and started a family WWII broke out across Europe. Nazis took over the Netherlands and my grandfather was seized off the streets and forced into the Nazi work program—kept in a train boxcar with hundreds of others, not given food or water, and only let out to dig trenches.
As a woman in her twenties, my grandma decided she wasn't going to stand for such treatment. She marched up to Nazi headquarters and demanded the return of her husband. Can you imagine a 5 foot tall woman going nose-to-nose with one of those soldiers? She did. And they returned my grandfather with apologies to boot!
Soon after my grandparents immigrated to America my grandfather died in an automobile accident leaving my grandmother in a land where she didn't know the language and had eight children to provide for. With no education beyond grammar school, she did just that. Working every job she could.
All this, and I've never heard my grandmother complain about how life treated her. Instead, she praises God and is now surrounded by a family so large we have to rent out a college campus to hold our family reunions.
And you know what? That's what strength is to me—my grandmother—someone who bares up under hard circumstances and does what needs to be done without needing to know that there is a reward on the other end.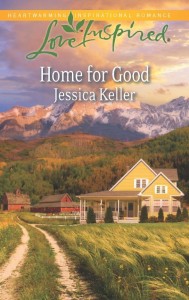 To purchase, click here. Home for Good (Love Inspired)
In my debut novel, Home for Good, the heroine, Ali Silver, has my grandmother's spirit.
Eight years ago Ali's husband walked out on her, leaving her pregnant and alone. Instead of letting that break her, Ali digs the heels of her boots into the Montana dirt and decides she will work hard to support her son and make a life for herself. Even though Ali's been through a tragedy, she spends her time helping others and opens a handicap horseback riding program on her family ranch.
Though Ali hits some rough patches where she doubts God, through it all, she knows He's never left her and that He created her to do more than feel sorry about her circumstances.
I hope you enjoy Ali's story!"–Jessica
Blurb –
"I made a promise to protect you."
But pregnant Ali Silver's husband broke his vow and walked away from her. After being injured in combat, Jericho has finally come home to Bitterroot Valley to make peace with his father and regain Ali's trust. But the single mom's keeping secrets of her own. And someone's killing off Ali's cattle and sabotaging her horse therapy business. Jericho will do whatever it takes to protect his wife and be a real father to his son. Because when it comes to love and second chances, he's one determined cowboy.
___________________________________________________
Twitter – @AuthorKeller
www.facebook.com/jessicakellerauthor
To enter the drawing for a copy of Home for Good, here's the question. Which do you like to read more–WWII stories or contemporary romance and why?–Lyn
BTW, what do you think she should have named her little girl?  What would you name a little girl today? 🙂