Author Marta Perry & Her Latest Amish Heroine Katie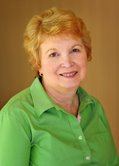 My guest today, Author Marta Perry, has been a good friend for many years.  We both write for Love Inspired and now Marta has branched out, writing the popular Amish stories. Whether you usually enjoy Amish romance or not, you will enjoy Marta Perry's ones! Here's Marta:

"I have long been fascinated by women's handwork and the stories that handwork tells about the woman who created it.  I only need look at the quilts, dresser scarves and "fancy" towels in my cedar chest for examples of handwork from my own family. My mother, grandmother, aunts, and great-aunts were seldom seen at the end of a day's work without some type of handwork in their laps. Through wartime and the Depression era, they continued to create, and I can imagine that more than a few tears sometimes dropped on the handwork in those difficult days. I need only touch the Autumn Leaf quilt  my mother made for me, or the tiny postage-stamp squares of a Double Wedding Ring quilt made by a great-aunt to feel close to them.
But women's crafts carry more of a story than the personal attachment owners may feel for them. Throughout history women have used the work of their hands to express their artistry and creativity even while making useful items for their families. In ages and cultures which didn't see women as artists, women still found socially acceptable outlets for their creativity in these humble items.
For Amish women, in particular, quilts have a long tradition, and so I've wanted to write about an Amish quilter in my Pleasant Valley series for some time. Finally I have my quilter—Katie Miller, the heroine of KATIE'S WAY, Book 5 in the Pleasant Valley series from Berkley Books, which came out Tuesday, November 1st.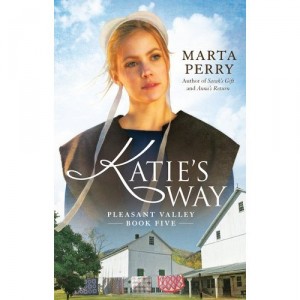 After a devastating loss when the man she planned to marry jilted her to wed her best friend, Katie seeks to start a new life in Pleasant Valley, opening a quilt shop. Her shop quickly becomes a center for both Amish and Englisch women to meet, share their stories, and give each other strength and support, and Katie becomes acquainted with Caleb Brand, the reserved Amish furniture craftsman in the adjoining shop.
But when Katie's promising new life is threatened by gossip and then by vandals apparently intent on attacking what they don't understand, will Katie find the strength she needs to go on? Blessings, Marta Perry
www.booksbymartaperry.blogspot.com
Do you do any handwork? What kind? And do you have any handiwork from relatives that you have saved?–Lyn