Author Christine Johnson & Motherly Sacrifice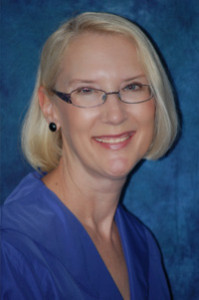 My guest today is Love Inspired author Christine Johnson. She will chat about the sacrifices our mothers make. She is also offering a book giveaway so be sure to leave a comment to be entered into the drawing. Here's Christine:
"The big sacrifices are stunning: a mother donates a kidney to her child; another gives her meager rations to her children; yet another gives her life to protect her child in a tornado. No one can miss those heart-tugging stories, but mothers also make
countless unheralded sacrifices every day.
I was blessed with a stay-at-home mom. Money was always tight when I was growing up, and we didn't have the newest and shiniest of everything, but I always knew my mom would be there. Granted, when I was misbehaving, I wished she wasn't always there, but for every scrape and hurt I sought solace in my mother's arms.
All in-laws all the time!
One sacrifice she made might not seem like such a big deal these days, but it was a little less common then. My mother grew up in a big city. When she married my dad, she moved to a tiny town where she knew no one. Many women in the Bible had to do the same. Rebecca, Ruth, and Sarah come to mind. What courage and trust it took to leave everything behind. Like Rebecca and Ruth, my mom left her family to join her husband's family. All in-laws all the time! My mom must have been relieved that her mother-in-law was a kind, Christian woman who understood that her son and new daughter-in-law needed space.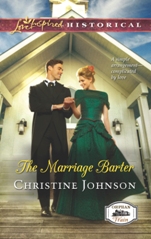 To purchase, click here. The Marriage Barter (Love Inspired Historical)
In The Marriage Barter,
Charlotte Miller moved to the tiny frontier town of Evans Grove only to lose both her family and her husband. The child she wanted so desperately had just become a reality after she and her husband took in a little girl off the orphan train. But the rules don't allow a widow to take in an orphan. Charlotte must give up her new daughter unless she can remarry in three short days. Charlotte sacrifices her dreams of a loving marriage in order to keep her daughter. Did any of the courageous women in your family make sacrifices for their children? Let's share.
I will be giving away a copy of The Marriage Barter to one fortunate commenter!"–Christine
http://christineelizabethjohnson.com
http://www.facebook.com/ChristineJohnsonAuthor
Twitter: @ChristineJWrite
Thanks, Christine. QUESTION: What was the biggest sacrifice your mother made for you? OR what was the biggest sacrifice you made for your children?–Lyn