Author Magdalena Scott & Her Creative Mom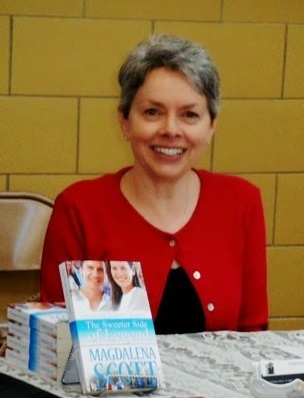 It's my pleasure to host Magdalena Scott, a new friend of mine and a creative author! Here's Magdalena's memory of her creative mom:
"If I were to choose one word to describe my mother, it would be "creative." She was an artist who preferred oil paint or pastels over watercolors, she designed and sewed her own clothes and mine, as well as gifts for others. She knitted and crocheted, refinished and upholstered furniture. (She was "upcycling" decades before the term was coined.) She even cut, colored, and styled her own hair.
When she moved from Los Angeles with my dad back to his midwestern hometown a few years before I was born, she used her creativity too. My dad was among people he'd known his whole life, but my mother made her own connections as well. They were a wonderful team in projects (building or buying and rehabbing houses), in parenting (after 20 years of marriage–surprise! I arrived), and in community.
My mother died in 2001 after suffering with Alzheimer's Disease for several years. I completed my first full-length novel that year, but she was gone before it was published.
On Mother's Day or at any other time, it is my hope that I honor both my parents by being the person they raised me to be. Creativity is part of my inheritance–what a gift!"–Magdalena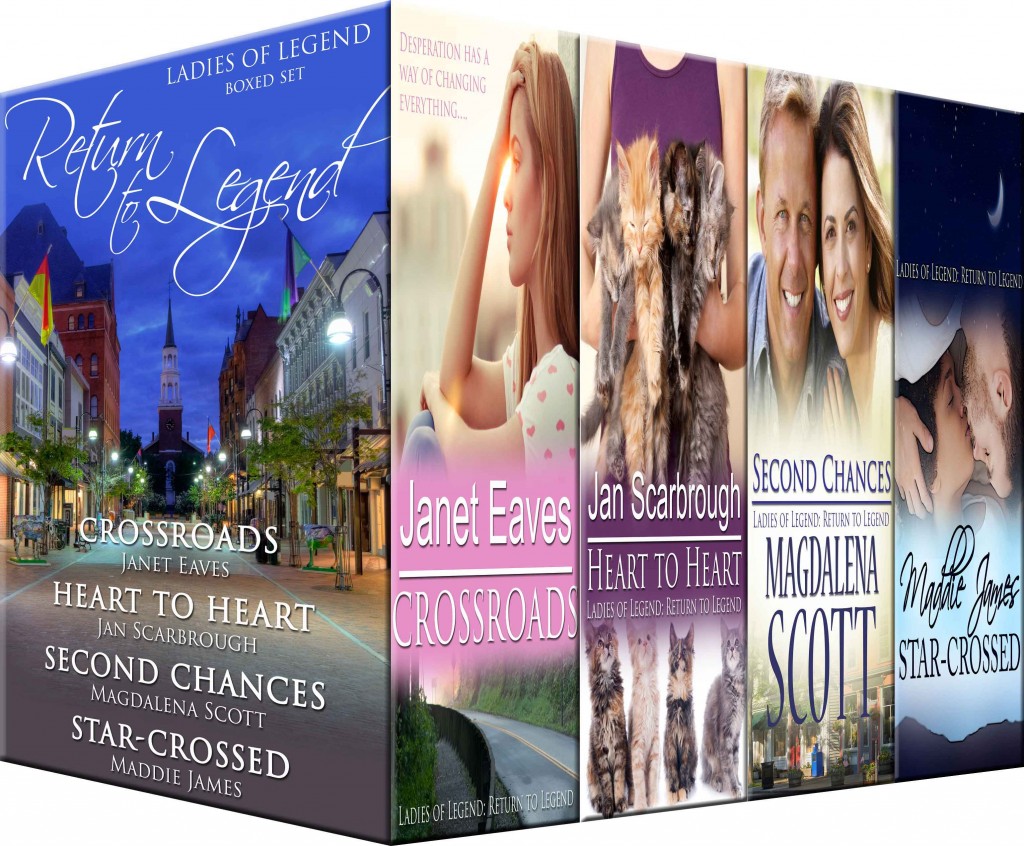 Blurb:
Ladies of Legend: Return to Legend Boxed Set
***LIMITED TIME ONLY PROMOTIONAL PRICE*** 99 cents for the ebook collection
Includes the novellas: Crossroads by Janet Eaves, Heart to Heart by Jan Scarbrough, Second Chances by Magdalena Scott, and Star-Crossed by Maddie James
Before life-long Legendarian, Addie Bynum, dies, she knows she had some loose ends to tie up. So she bequeaths some of her worldly possessions to four special people, bringing them all back to Legend.
Sharon Clark vows there is no way she will ever return to Legend, Tennessee. But desperation has a way of changing everything….
When Jeremy Hamilton's aunt Addie gives him a second chance, he must decide if he believes in the unbelievable and the pet psychic who teaches him about faith…and love.
Anne McClain Bradley returns to her small town roots, while Pete Garrity is looking for a fresh start. Second chances. Sometimes the hardest part is believing they exist.
When Jasmine Walker returns to Legend after a fifteen-year absence–she doesn't expect her troubled teenage past to collide with her well-planned, professional future.
Can they all Return to Legend, and with Ms. Addie's help, finally find love and happiness?
Magdelana, thanks so much for being my guest and sharing about your mom. I think you have succeeded in making them proud.–Lyn
BUY LINKS: