Author Terri Reed & Her Trip to Downton Abby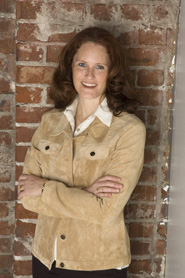 My guest today is Author Terri Reed who just returned from an amazing trip. She wants to give a book away PLUS tell us all about Downton Abby. Here's Terri:
Sometimes fact is even more extraordinary than fiction…
Hi, Terri Reed here. I recently returned from a trip to England. Such a beautiful and fascinating place. While there, my husband and I visited Highclere Castle, which provides the stunning setting and backdrop of the iTV(UK) PBS Masterpiece (US) drama titled Downton Abbey.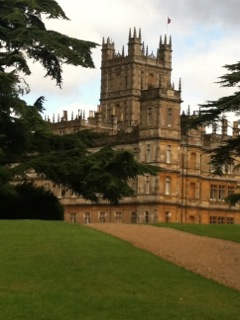 The premise of the show was inspired by the extraordinary story of Lady Almina, wife to the 5th Earl of Carnarvon, who convinced her husband to convert Highclere Castle into a hospital in September 1914.
Almina's humanitarianism and love for her country make her an admirable woman.
The current Countess of Carnarvon has written a book about Almina and the remarkable people who lived both upstairs and downstairs that spans the years of Alimina's marriage, her introduction into the aristocratic society of her husband, through the Edwardian period to the years before and after The Great War. If you're a fan of the show this is a must read.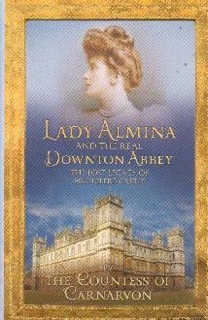 To purchase, click here.Lady Almina and the Real Downton Abbey: The Lost Legacy of Highclere Castle
As the illegitimate daughter of banking tycoon Alfred de Rothschild, at nineteen Almina was married to the Earl of Carnarvon bringing with her an enormous fortune. She had to navigate her way through her new life at Highclere and gradually won over society and her husband with her wit, brave spirit and sense of style. She sounds very much like a person I would have liked. A person very much like the heroine of my October release.
Doctor Brenda Storm grew up with money but never felt comfortable in her world. Only as a doctor did she found a way to belong. She would have approved of Almina's actions in making the castle into a hospital. Though Brenda didn't turn her own home into a medical facility, she did start a clinic in downtown Chicago to help those who couldn't afford healthcare.
Walking the halls of Highclere Castle was both odd and exciting. Odd because my surroundings seemed so familiar from watching the tv show. And exciting to know that so much history and life had been lived within the walls of the castle. The grounds were expansive and beautifully maintained. As I meandered through the garden I wondered if Almina had perhaps walked these same paths and if she'd found the same sense of peace that I was feeling.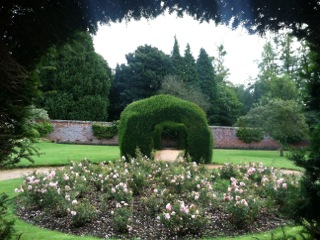 In my book, The Doctor's Defender, Brenda takes a moment to walk through a garden outside of a hospital seeking solace. But her moment of peace is shattered when the man stalking her attacks. Thankfully, her handsome bodyguard, Kyle Martin, fends off the assault, with a little help from Brenda! Unfortunately the man escapes more determined to hurt Brenda. Kyle is just as determined to protect the lovely doctor…with his life if need be.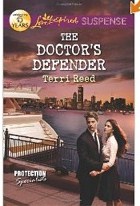 To purchase, click here. The Doctor's Defender (Love Inspired Suspense)
Wow, what a great trip, Terri! I went to England too long ago to mention, but what fun. I remember most the trip to the Tower of London with my longtime English penpal, Pat, and spending a weekend with her. To enter the drawing for a copy of The Doctor's Defender, here's the questions:
Did you watch Downton Abby? What did you think?

If you could go to England, what would you want to see first?–Lyn