Lyn Interviews Book Blogger Kav of Best Reads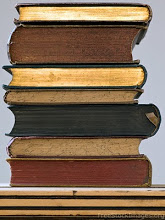 Canadian librarian Kav decided in 2010 to start keeping track of the best books she read and the rest is history–or actually a very interesting blog. Here's Kav's interview.
1-Who are your favorite authors?
That's an impossible question to answer. Perhaps I'm too fickle of a reader, but I adore so many authors that I couldn't possibly start naming them. I will say that I pretty much only read Christian fiction. That's definitely my favorite genre.
2-What kind of book is the one you look for in bookstores and online?
Christian fiction – preferably romance. ? I have my go-to authors and publishers but I'm always on the lookout for debut authors I can fall in love with. I will admit that book covers draw me and a great cover may make the sale for me when I'm struggling over which book to buy. I love brick and mortar bookstores and frequent a family owned Christian bookstore in my town. There's something about being able to breathe in that distinct just-off-the-press smell that sends me into reader euphoria
3-What prompted you to start a book blogging site?
I love books and when I discovered Christian fiction about five years ago I wanted to shout it out to the world! Who knew the depth and breadth and inspiration found in the CBA lineups every year?!
4-Tell us a bit about yourself.
I love to read. Was actually a late reading bloomer but once I figured it out I devoured books and never grew out of my love of reading. I'm a school librarian and love sharing the joy of books with kids. I'm also an aspiring writer. You might say I'm story obsessed.
I enjoy the challenge of upcycling furniture and am pretty proud of the fact that my wee little house is full of nearly new cast offs that have been repurposed. My favorite project is an old card catalogue that I turned into a coffee table on wheels.
I'm an animal lover…dogs, cats, budgies, rats, mice, dwarf bunnies…even raccoons…have shared my home at one time or another. Sadly, I'm dogless for the first time in twenty-five years. My old man sheltie died just before Christmas. I'm anxiously on the search for a new furrever canine friend."–Kav
Here's the link to Kav's blog http://bestreads-kav.blogspot.com/
And she actually reviewed one of my books, Heartland Courtship. Here's that link too.
I hope you're getting to know some new book bloggers and finding some more good books to read!–Lyn
BTW, Danie won a copy of my book, HER CAPTAIN'S HEART. Congrats, Danie!