Author & Mom Kim Doebler & ESP, Teaching Kids Character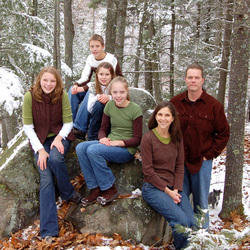 My guest today is an "in my real life" acquaintance, Author, Speaker, and Mom Kim Doebler. Kim and I met at the church we attend in the northwoods of Wisconsin. She learned I was an author and asked my advice about getting her book on parenting published. I gave her a few tips and as they say, the rest is history! Here's Kim about her book ESP, (Explain, Show Practice) Character Training:
"In I Corinthians 13: 4-7 we learn what God says love is. Love is patient, kind, not proud, not easily angered and always perseveres. These are all traits ESP Character Training gives practical steps to instill in our children. Ultimately, God is love and it is the books goal to help parents pass on His wisdom to their offspring. This book is a guide to purposeful proactive parenting.
The book ESP Character Training was first written to have an outline to pass on to our children. After sharing these examples with other moms, a realization came that there was a bigger need. Many young moms were longing for someone to come along side them. A book seemed the most realistic way of doing my part to fill this need.
Since writing ESP Character Training we have received testimonies of how the book has been the thing families have needed to go from theory to application. This book allows our family to share what we have learned and to be mentors one page at a time."–Kim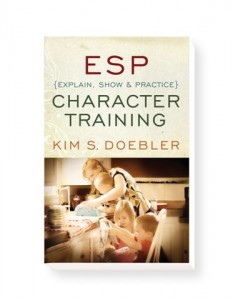 "Character entails living the way God calls us to live.
Sometimes we expect our children to learn the most important traits in life by chance. This book presents a process that incorporates Explaining, Showing and Practicing, in other words ESP, as a way of teaching character. Each chapter holds Biblical reasons for training, an abundance of ideas and practical examples to inspire and motivate every parent.
Honesty, Respect, and Self-Control are some of the character traits expanded on in these pages. Haven't we each noticed a child that stood out because of his/her character? With God's grace and a planned approach we too CAN instill character that shines bright. Let Kim come along side you as she shares her personal stories of training children in character. Then as families produce an abundance of young people with godly character there will be a noticeable light spreading throughout our dark world.
'When wealth is lost, nothing is lost; when health is lost, something is lost; when character is lost, all is lost.' Billy Graham
May be purchased in print at Kim's website: www.espcharactertraining.weebly.com
May be purchased in e-book form at: amazon.com
Kim is also available to speak to groups. Again go to her website for more info.
I think it's really interesting that Kim wrote the book first to pass it on to her children. I think the most important character traits I wanted to "pass down" to my children were honesty and kindness. What intangibles do you want to leave behind as a legacy to your children?–Lyn