Lyn Interviews Best-selling Author Gail Gaymer Martin (Giveaway!)

 My guest is my dear friend best-selling author Gail Gaymer Martin who agreed to give us a peak into her life today. She is offering a giveaway in a book drawing for a copy of her latest Love Inspired Romance, THE FIREFIGHTER'S NEW FAMILY, (US addresses only). Here's Gail's interview:

Lyn:  Share one fun or interesting fact about your life or books.
Gail: Before I married my husband, I had many dreams of things I wanted to experience in my life but never thought them possible. One was my childhood dream to be a writer, next to sing with a very renowned Christian chorale in our area, another was to travel to other countries, and finally to sleep in a castle.  My husband and I married in 1985. On our first trip to Europe (dream fulfilled), I slept in a castle (dream came true and I've stayed in numerous castles since then). One evening I received a call from the recruiter for this wonderful Christian chorale and asked if I would like to audition. He'd heard I was a good singer. I passed the audition and have sung with them for 20 years (another dream answered). Finally I retired in my 50s and started to write for magazines, periodicals, Sunday school materials and lots more. I sold nearly everything and began writing fiction in 1997. I sold my first novel in 1998 and today I have 52 contracted novels with nearly four million books in print. My final dream fulfilled. This proves that dreams can come true even when we least expect it.
Lyn-Why do you write?
Gail-I write because I must. I began writing in the 3rd grade, poetry then, and soon was writing short stories as a child. This continued with all kinds of writing throughout my life, but I never thought to submit to a publisher. Once I did, I was hooked and I realized that Christian fiction is not only entertainment, but it's a modern day parable that answers important questions that we deal with in life about love, family, hope, forgiveness, trust and faith. It's amazing to be hooked on sharing my heart with readers.
Lyn- In what ways does your heroine show strength? Where does she draw her strength?
Gail-The heroines in all my books are dealing with internal conflicts and often external ones, but the internal are the ones that make them vulnerable and afraid. My first book in the Sisters series was Her Valentine Hero. The story is about Neely, and in it, readers meet her younger sister, Ashley, who is the heroine in my recent novel, The Firefighter's New Family. Ashley is the single mom of a three year old. She lost her husband in the middle-east war and sadly, he had never met his baby son except through a photograph. Ashley is strong and strives to be both father and mother to her boy. She is employed doing home secretarial work for small companies. One thing Ashley knows, she will never marry a man who has a dangerous career. But who does she meet and become friends with? A firefighter. Determined not to fall in love, she fights her feelings, yet she learns through her family and her faith that another strength in life is to trust the Lord and those who love her.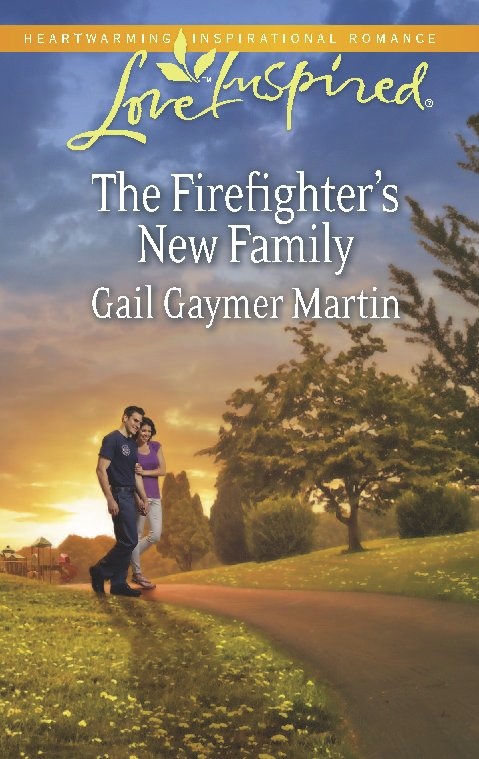 To purchase, click here. Name Your Link
The Firefighter's New Family
Love Inspired, January 2014 release

Book #2 in the Sisters Series 
A tornado may have left Ashley Kern injured beneath a fallen tree, but it's her rescuer who plays havoc with her emotions. Firefighter Devon Murphy is everything the single mom could wish for in a husband: handsome, a doting father and ready to join his family to hers. But how can the pretty war widow make a life once more with a man whose career is full of danger? Devon has fought some pretty big battles in his life, but can he help Ashley conquer her fears and show her the safest place of all is in his arms?
(Book #1 – Her Valentine Hero, Feb. 2013)
4 star RT review:  In the second book in the Sisters series, strong characters demonstrate how we should not let fear prevent us from living the life God has planned. Martin is inventive with her offbeat comparison of a family to a puzzle.
Thanks, Gail, for that inspiring interview. QUESTION FOR GIVEAWAY DRAWING. Do you have a lifelong dream? Have you fulfilled it or will you?–Lyn PS: I'll announce WINNERS from last week on Weds!