Amish Author Suzanne Woods Fisher & Lancaster County Christmas & Book Giveaway
My guest today is Amish Author Suzanne Woods Fisher and she made me smile. She is going to talk about dogs and her bestselling book, Lancaster County Christmas. She is offering one copy to a commenter. So read her story and tell me what you think about it! Here's Suzanne:
"Ten years ago, our family returned to the United States after living in Hong Kong. For four years, we had lived in an 1,100 square foot apartment in a 44-story high rise—a family of six! Not an extra inch of space to spare. Not one.
As we settled back into an American life, I volunteered to go on a field trip with my third grader's class. This trip happened to be going to Guide Dogs for the Blind in San Rafael, California, and that was how a very special chapter in our family life began, and how A Lancaster County Christmas got its start.
On that field trip, my son and I were hooked. We started the process to raise a Guide Dog puppy—attending classes, filling out paperwork, having our home approved. A few months later, Arbor, an 8-week-old ball of busy yellow lab wonder, bounced into our life and stole our hearts.
Fast forward through eighteen months of training, outings, meetings, chewed loafers. Arbor graduated! He was partnered as a guide dog to a blind college student. Over half of the dogs don't graduate as guides, for all kinds of reasons. Instead, they are "career changed." Many become service dogs for other organizations—such as Dogs for Diabetes, Canine Companions for Independence, and Search and Rescue.
I met a woman, Celeste Butrym, who works for Guide Dogs and is also a trained volunteer for Search and Rescue (SAR). Celeste and her husband give hours of tireless service for SAR. It's incredible what these volunteers do—they head out into all kinds of weather, at all times of day, to hunt for lost children or adults. And these dogs! They are thoroughly dedicated to their task. One heartbreaking event occurred when Celeste's SAR dog, Ranger, was on a search and ended up touching a live electrical wire. Ranger lost his life on that search. So sad.
Service dogs are special. So are the people who train them. Dog behavioralists believe they are just on the tip of the iceberg of what a service dog can provide to a disabled partner. As a dog lover, I try to sneak a dog into each of my stories—just a small role. But with Celeste's help and guidance, I took the role of a dog a little further and created a SAR storyline.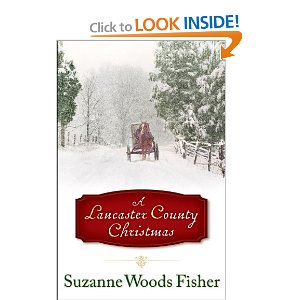 A Lancaster County Christmas is a story about two couples, one Amish, one non-Amish, a very cool dog named Tucker, back-to-back snowstorms, and Christmas weekend. In between storms, a little boy goes missing. I wish I could say Tucker saves the day, but he goes missing, too! Ah…you'll just have to read the story to find out what happens.
But I will tell you one thing: Arbor was our first guide dog puppy to raise, but he wasn't the last. We're on our tenth puppy! Raising puppies is like eating potato chips—you can't stop at one. "–Suzanne
Bio:
Suzanne Woods Fisher is a bestselling author of Amish fiction and non-fiction and the host of a weekly radio program called Amish Wisdom (link: www.toginet.com/shows/amishwisdom). The Waiting was a finalist for a 2011 Christy Award and The Choice was a finalist for a 2011 Carol Award. She is contracted with Revell into 2016.
Her interest in the Amish began with her grandfather, W.D. Benedict, who was raised Plain. Suzanne has a great admiration for the Plain people and believes they provide wonderful examples to the world. In both her fiction and non-fiction books, she has an underlying theme: You don't have to "go Amish" to incorporate many of their principles–simplicity, living with less, appreciating nature, forgiving others more readily– into your life.
When Suzanne isn't writing or bragging to her friends about her first new grandbaby (!), she is raising puppies for Guide Dogs for the Blind. To Suzanne's way of thinking, you just can't take life too seriously when a puppy is tearing through your house with someone's underwear in its mouth.For more info, drop by www.suzannewoodsfisher.com
I'm really impressed by her volunteering a lovely home and training to guide dogs. How cool is that? I know one of my regular reader has her own guide dog. Do you have a funny or touching dog story? Share!–Lyn