Author Hannah Alexander & Her Latest Book & Her Latest Struggle

Today my guest is Author Hannah Alexander. This is a pen name for a married couple who write together! Neat. And they are a very neat couple–Cheryl and Mel. I am going to share about their latest book, a historical, The Wedding Kiss. They are a double threat in more ways than one. They write both historical and contemporary romantic suspense. Anyway, I always like to post more than just book info so I copied a recent blog Cheryl wrote on a group blog she participates in. Here's Hannah:

"Posted to the blog: A Girls Write Out on July 29, 2011
"Hey Girls–I could use some female advice
Nearly all of us go through this awful time of life at least once, usually twice or more–and that is losing a loved one. I can't actually say yet whether I'm losing my mother, or whether she'll be home next week ready to get back to living. God knows. I don't. The doctors don't. I wish I knew more.
God has blessed me in a very special way by putting an ER doc in my life so when I have questions or am frightened or don't know what kind of decision to make about my mother's care (I'm an only child) Mel can guide me and comfort me. God has also blessed me with you girls, who support and love and encourage. What blessings you are. I do have things for which to thank God, and I need to remember that more often.
The question I have for you today, however, is how do I get the answers I need about my mother's care? I realize her surgeon and the hospital resident can put their heads together for some good ideas. I'm also in awe of the nurses who see Mom more intimately on a daily basis, and they will speak with the docs about her behavior and the need she has to grow strong again and fight the awful contamination inside her body after the tumor surgery.
I've found, however, that even though I have power of attorney about Mom's care, I can walk to the nurse's station and stutter and hesitate and forget what questions I needed to ask about her situation. I need to know if her tumor was cancer. For goodness' sake, it's been a week since the surgery. Why no results of the biopsy? So I depend on Mel to ask the medical questions. I'm too meek.
Any ideas? Mel can get the answers by asking a few questions, where they look at me at times as if I had no right to Mom's medical situation. What do you do to get questions. Are you bashful like me, afraid to offend? Or like Colleen, do you stride into the nurse's station and grab someone by the lapel and squeeze answers out of her? And if you do that, HOW do you find the strength to do that? I mean, catching Mom's surgeon when he comes by to check on her? Ha! It doesn't happen. I could camp out there from midnight to the next midnight, and he would show up for four seconds during my time in the bathroom. WHAT am I doing wrong? Tell me, please, before I lose all control and run screaming through the hallways in a rage?
Any help there? Please?
And while you're at it, would you please pray for my mother, Lorene Cook?"–Hannah (Cheryl)
Posted to the blog: A Girls Write Out
Now about their latest book-The Wedding Kiss-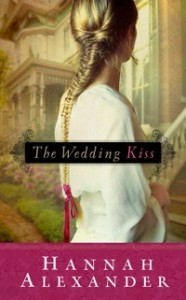 Against the backdrop of 1901 Eureka Springs, Arkansas, and the surrounding countryside, one simple kiss draws two people into a discovery that will forever change their lives.
Marriage seems the only option for Keara McBride and Elam Jensen after Keara's father gambles away her home and ends up in jail, and Elam's children need a mother's care. When the Jensens seal their vows at the altar with a kiss, however, their marriage of convenience seems much less convenient. The first kiss they share before a church filled with witnesses ignites a beacon of attraction that leaves them both feeling guilty. Elam's wife, Gloria–who was also Keara's best friend–has been dead less than a year. How can they betray her like this? And yet…oh, that kiss. When a stranger who bears a striking resemblance to Gloria shows up injured on the front porch on Elam and Keara's wedding night, the whole family is thrown into confusion, suspense and danger. But does this stranger also hold a key to the Jensens' future happiness?
Published by Summerside Press
http://www.amazon.com/exec/obidos/ASIN978-1-60936-308-6
For the story of how Cheryl and Mel met, drop by http://www.hannahalexander.com/pages/bio/bio.html
Thanks, Hannah Alexander! Please offer Cheryl some comforting and encouraging words if you could. Thanks–Lyn