Award-Winning Author Valerie Hansen & Grandma Edith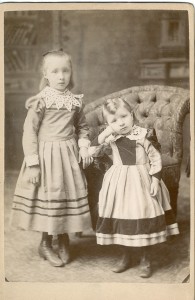 My guest today is a good friend, author Valerie Hansen who is sharing a special memory of her grandmother Edith. (In the photo above, Edith is the smaller sister. The other is her sister Louise.) Here's Val:
"Strong women? My family is full of them. Me, included. Grandma Edith was born in 1884, the child of Swiss immigrants. Her life was not an easy one. By the time she had married and my mother Helen was born, her own mother had been widowed and was supporting herself and other children by running a boarding house.
Later, when I was very young, Edith came to live with Helen and the rest of our family. She was a very quiet person – unless I asked her for a song or a story. Then she never held back. I truly believe it was from her that I learned to love tall tales and heroic characters. Her wonderful stories almost always featured me as the heroine and I always triumphed.
What I didn't know was that she had been given a mere six months to live. Well, she fooled them all. She lived six more years. I never once heard her complain in spite of her pain. And, even as I grew, she always made room for me beside her in her favorite chair while she knitted and spun her magical web of imagination.
I often wonder if having me squeezed in next to her like that aggravated her physical ills. If it did, she never gave in and sent me away. Nor was she ever too busy for an inquisitive little girl whose best friends were found in books. And seated next to the grandmother whose love was tangible – and continues to this day.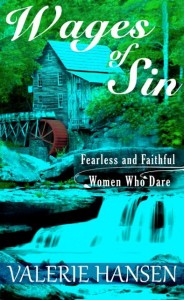 To purchase, click here.Wages of Sin
My featured ebook, WAGES OF SIN, is actually set close to the time of grandma's youth. Daily life was changing rapidly then. In the case of Ruby McKay, her choices were limited – but that didn't stop her from doing what she had to do to save her newborn nephew, right after the boy's birth, from the same powerful man who had killed her sister Emma. As Ruby flees from Kansas with the innocent babe, an organized effort to capture her ensues. She has to rely on her wits and the aid of a few unlikely strangers to outwit her pursuers.
Her journey takes her as far as Lincoln County, New Mexico, and drops her smack dab in the midst of a war between rival cattle barons, crooked politicians, and the odd sheep rancher, whose murder triggers another shooting match and leaves Ruby – and the baby – caught between their old life and a new, deadly threat.–" Valerie
PS-I will donate a copy of WAGES OF SIN via an Amazon gift card if the winner lives in the USA. Others will receive a previously printed paperback, also historical set in the American West.
What a wonderful story. It reminded me of Steve's grandmother who was 92 when our son was born. I can remember him climbing up on her lap and her hiding the pain and calling him her little angel. Thanks for sharing, Valerie!
To enter the EBOOK drawing,
Question: Which grandparent showed you the most love? And how did he/she show you that love?–Lyn